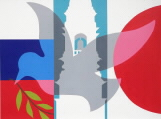 Celebrating the Spirit of the Portsmouth Peace Treaty
2005 -- The 100th Anniversary
In 2005, local community groups brought the events and lessons of 1905 back to life. Dozens of organizations and hundreds of their volunteers celebrated the theme of a peace treaty reached with ordinary citizens providing a crucial, neutral, supporting atmosphere, not for one or the other of the protagonists, but for peace.
The Centennial was more than a hometown celebration of an important historical event. The idea that ordinary people could influence world events by fostering a positive environment for peace captured people's imaginations and played out in imaginative ways. As the grassroots efforts brought more varied interests into the planning, the central idea generated investigations along multiple parallel tracks: What social and religious events supported the diplomats' search for compromise? What music was played? How did the Jewish emigré shopkeepers greet the Russian delegates? What did the ladies do? Ideas led to local newspaper files, private collections and individual memoirs -- an effort praised by the Librarian of Congress for demonstrating the invaluable role local people play in finding and preserving the elusive records of the past.
Contemporary counterparts took their own paths: creating artworks for The Art of Peace exhibit co-chaired by Yoko Ono; crafting African tribal symbols into colorful messages of peace and reconciliation for the Seacoast African-American Cultural Center; presenting concert programs dedicated to the theme of peace for modern times. School-children folded paper peace cranes (displayed at the Children's Museum of Portsmouth) and adapted the Portsmouth Peace Treaty Curriculum Guide (which also received Center for Global Partnership support) to their classrooms. For full details and photos of the dozens of 2005 Centennial events, click here.
2006
The spirit of the Portsmouth Peace Treaty continued to be celebrated in 2006, the 100th anniversary of the awarding of the Nobel Peace Prize to President Theodore Roosevelt for his diplomacy in helping to end the Russo-Japanese War. Click here for full details of the Nobel Prize Commemoration that earned the commendation of the Nobel Institute, and other annual events.
2007
In 2007, the tradition of celebrating the spirit of the Portsmouth Peace Treaty was revived, echoing the 1907 celebrations in Portsmouth. Events, which are now planned annually included a concert by the Seacoast Wind Ensemble, a performance of Pontine Theatre's "The Peace of Portsmouth," the Peace Flag-Raising at Green Acre Bahai School, the Portsmouth Naval Shipyard Treaty Signing commemoration and bell-ringing throughout Portsmouth on September 5 at 3:$7 pm, the Labor/Portsmouth Peace Treaty Parade and the Theodore Roosevelt Nobel Peace Prize Commemoration presentation by the Portsmouth Peace Treaty Forum. Click here for full details.