Negotiations, Part 6:
August 27, Sunday: Special Postponement / Carey Creek Reception
Meanwhile the Japanese government started a marathon series of meetings with the cabinet, elder statesmen, and military leaders to consider the negotiations. They asked Komura to postpone the conference until Tuesday.
Takahira and Witte
Takahira then met with Witte informally at the Wentworth where Witte again said there would be no further compromises but agreed to delay the final conference until Tuesday. Komura meanwhile telegraphed his opinion to the Cabinet that Japan should also make no further compromise.
Church
During Sunday some of the Russians attended services at St. John's Church while Witte again went to York Beach.
Carey Creek Farm Reception
Both delegations, along with many local social hosts, attended an elaborate garden party hosted by Mr. and Mrs. Arthur Carey at the Carey Creek Farm in its famous gardens that concluded with musical performances in the Creek Farm music room. Among Herbert Peirce's Harvard acquaintances was a Cambridge arts and crafts enthusiast and social reformer, Arthur Astor Carey. He and several other 1879 Harvard classmates and their families formed an artistic summer colony at Little Harbor after Carey inherited 1.5 million dollars from his parents and married Agnes Laura Whiteside.
The Carey's architecturally significant shingle style summer cottage (1887-89) known as "Creek Farm" was designed by another Harvard graduate, Wadsworth Longfellow, successor to H. H. Richardson. Between 1890 and 1905 the house was enlarged—also to designs of architect Longfellow—to accommodate a growing family of four children (plus servants). Two new wings form an open U plan, with the ground floor of the larger eastern wing a heavily paneled baronial "Music Hall" where Astor and his musical guests might perform; beyond a smaller one-room addition on the west was laid out as a formal Italian garden.
Agnes Carey assisted Helen Peirce by serving tea at the first of her large social events at Niles Cottage in Newcastle, and soon was inviting members of both the Russian and Japanese delegations to dinners and garden parties at Creek Farm. The Russian dinner party is known from a reminiscence of their young daughter Alida Carey (later Mrs. Gulich), and that on August 27, 1905 for members of Japanese delegation from the diary of one of those attending.
Moreover, there was what young Alida Carey remembered as a "rather disastrous garden party for them both together," perhaps at the depths of the negotiations. The garden was decorated with a large Russian flag and a large paper Japanese carp hung so that they could be seen from the Wentworth across Little Harbor, but each delegation arrived by boat separately and in sequence, rather than enjoying their hospitality together.
As a reward for assisting the United States in entertaining the important foreign visitors, the Carey family and other participating neighbors were all guests on the presidential yacht, Mayflower.
August 28, Monday: Witte Ordered Home, Russia and Japan Change Position
Music Hall Performance
Russian Position
Late Monday evening Witte received a cable telling him the Tsar had changed his mind. Nicholas wanted to continue the war and end the negotiations, rejecting the peace terms he had earlier agreed to with Meyer. Witte replied that if he terminated the negotiations without allowing the Japanese a final session, Russia would be blamed by the world for continuing the war, and so he would attend the last session but make no further concessions and prevent the Japanese from blaming the Russians for the failure of the conference.
Japanese Position
After two days of meetings and pressure from the military and elder statesmen, the Japanese government cabled Komura telling the diplomat to accept (against his own wishes) Russia's peace terms. At first, the government made the decision without knowing the Tsar would give up one-half of Sakhalin, but when informed by the British of the Tsar's willingness, they changed the order to hold out for one-half of Sakhalin.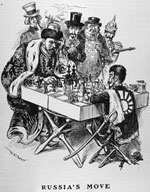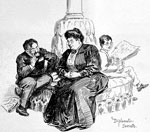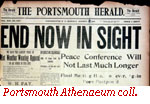 Portsmouth Herald headline: End Now in Sight: Peace Conference Will Not Last Much Longer.
Japanese statesmen and members of the government who were in favor of peace argued that, since Russia's agreement with most of Japan's negotiation terms, and because Japan had achieved its war aims in Manchuria and Korea, and given Japan's overextended financial condition, it was necessary to make peace rather than continue to fight over Sakhalin and reparations.
Some of the Japanese delegation were profoundly shaken by these orders, but Komura bolstered their spirits by displaying composure and courage. When many of the Japanese could not go to a dinner at the Wentworth dining room, Komura and Denison went together and appeared cheerful as if nothing had happened, but many in the press corps picked up on other Japanese delegates' feelings and, through the press, Witte learned that there may be hope of a change in Japan's position.
That evening, some of the Russian delegates attended a minstrel show at the Music Hall as guests of Portsmouth Postmaster J. H. Bartlett and other local citizens.