Peace, Part Four - September 5, Tuesday: Treaty Signed; Christ Church Service
Following the signing, the Russians left directly for Portsmouth where a service of thanksgiving was held in Christ Church. The sanctuary was filled to overflowing with both dignitaries and local residents for the service, which was conducted by the rector, the Rev. C. LeV. Brine, assisted by other Orthodox clergy who came to the city for the occasion. Also participating were choristers from St. Nicholas's Cathedral in New York. Father Alexander Hotovitsky, Archpriest of St. Nicholas's, sang a solemn Te Deum.

Father Hotovitsky, a renowned missionary of the Russian Orthodox Church in America, was later martyred by the Russian Communists and eventually was made a saint, but on this day his topic was peace. Speaking before the congregation, he told Witte and Rosen,
"I congratulate you, on the great victory you have won over feelings that are natural to all Russians, since it was truly hard for a nation as proud as ours is to make peace with Japan, after what we have experienced at her hands."
According to the Portsmouth Times,
the "most thrilling incident of the service" came when Fr. Hotovitsky presented the two Russian diplomats with the crucifix: "The baron fell on his knees to embrace the sacred emblem," while Witte "gave way to his emotions and wept like a child."
Although a pew had been reserved for the Japanese, they did not attend. After the service, a large crowd outside warmly greeted the Russians and when Witte returned to the Wentworth he found his coat pockets filled with gifts from well-wishers.
Later at the hotel, Komura made a courtesy call on Governor McLane and gave $10,000 to the state in gratitude, and then visited the hotel staff distributing $1,000 in tips. Three days later the Russians also gave the state $10,000.
Komura left the city on the 7:28 train that evening, planning to visit Harvard. The next day the Herald reported, "Baron Komura left Portsmouth last evening for Boston. Before his departure, he requested the editor
. . . to express his sincere thanks for the unfailing courtesy and kindness, which he and Mr. Takahira and the rest of the members of his staff have invariably received at the hands of the state and municipal authorities and residents. Nothing, he adds, was left undone to make his stay here as agreeable as possible and he will carry back to his own country the most agreeable recollections of the beautiful city of Portsmouth and her most hospitable inhabitants."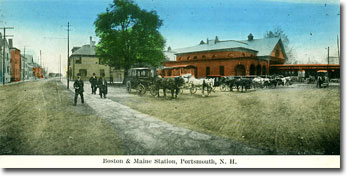 On the following day, a huge crowd at the Portsmouth railroad station cheered the Russians and the remaining Japanese who left by separate trains. Korostovetz, at the railroad station on Wednesday, made the following statement to the editor of the Herald in behalf of Witte:
" I am delighted with America. I am especially delighted with the people of Portsmouth including all those I have met during my stay. I have nothing but kind words for all who have in any way assisted in providing for us. I shall always remember your grand old city."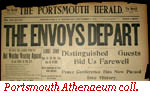 The Envoys Depart. A Herald editorial concluded:
"Portsmouth has been the center of the world's stage this summer and now that the scene has been shifted and we are allowed a few moments of leisure we can see cause for nothing but congratulations. Our city has won enduring fame and that fame is shared by the humblest citizen."